[ad_1]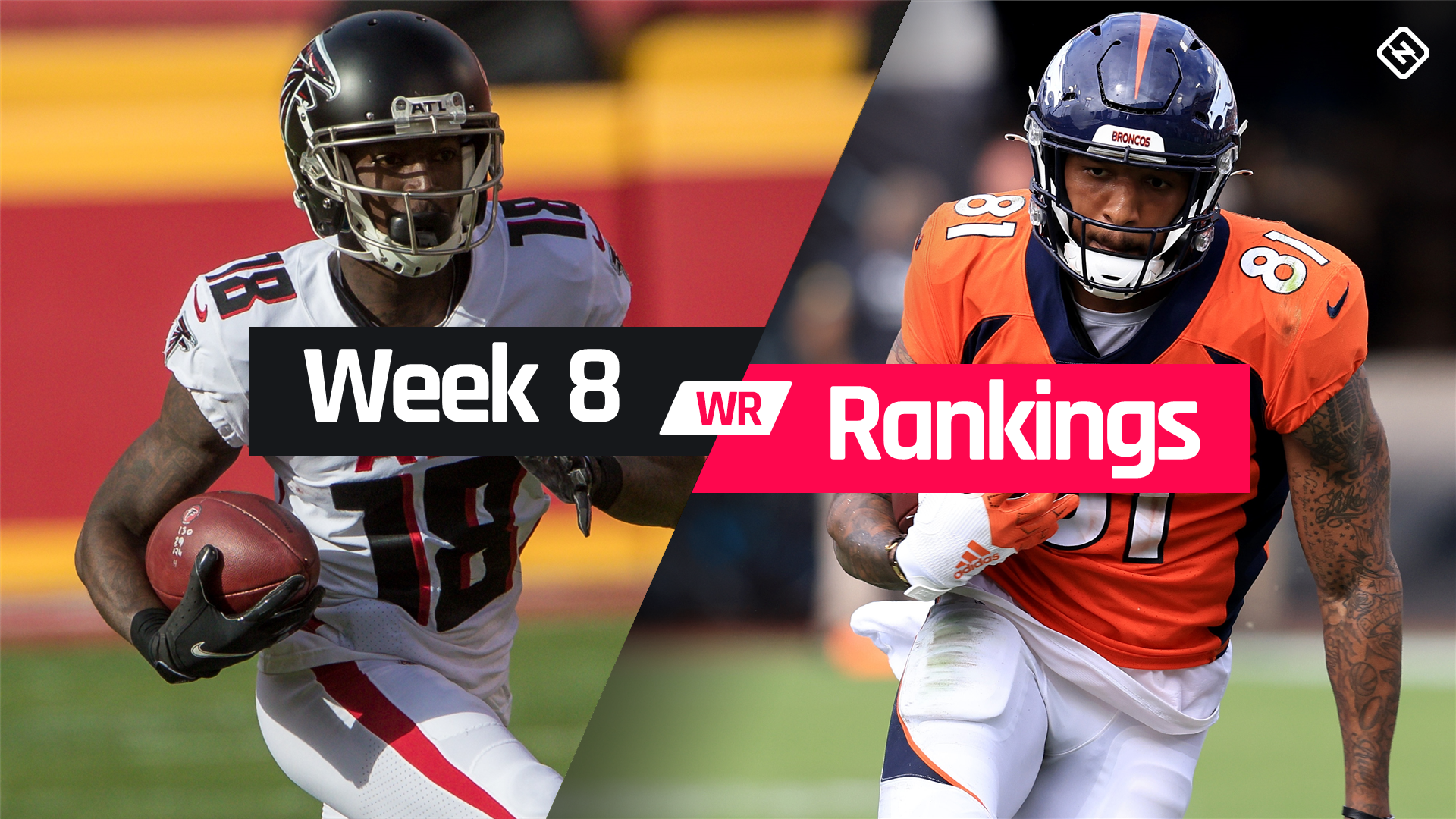 Rank
Player
1
Cooper Kupp, LAR @ HOU
2
Stefon Diggs, BUF vs. MIA
3
Tyreek Hill, KC vs. NYG
4
Mike Evans, TB @ NO
5
Justin Jefferson, MIN vs. DAL
6
Adam Thielen, MIN vs. DAL
7
DeAndre Hopkins, ARI vs. GB
8
D.J. Moore, CAR @ ATL
9
A.J. Brown, TEN @ IND
10
Ja'Marr Chase, CIN @ NYJ
11
Terry McLaurin, WAS @ DEN
12
Antonio Brown, TB @ NO. AB should be ready to go this week after missing the game against Chicago with an ankle injury, and he's shown enough to be viewed as a high-end WR2. New Orleans has been a solid defense this year, but their weakness has been against fantasy WRs. Mike Evans, Chris Godwin, and Brown are must-starts regardless of matchup, as you probably already know.
13
Calvin Ridley, ATL vs. CAR. Ridley saved his day with a touchdown, but only caught four passes for 26 yards and the score. However, he did draw 10 targets, and we know what he brings to the table at his ceiling. He's a guy who has been frustrating, but you can't reasonably bench a guy that has had the success he's had in the past and can notch double-digit targets each week. Preseason sleeper, Russell Gage finally broke out in Week 7, but it's tough to think he'll produce consistently with Ridley and Kyle Pitts sharing the offense.
14
Chris Godwin, TB @ NO. See Antonio Brown.
15
DK Metcalf, SEA vs. JAX. Metcalf is dependent on the play of Geno Smith, but his talent combined with the matchup here keeps him ranked as a WR2. He should draw tons of targets, so even if Smith is inefficient, Metcalf could enjoy fantasy success. Obviously, his ceiling and floor are much lower without Russell Wilson, though.
16
Deebo Samuel, SF @ CHI. Samuel is enjoying a breakout season and has been targetted at least eight times in every game this season. He's netted 100-plus yards in three contests and caught four touchdowns on the season. Chicago has been shredded by WRs when they've played competent players at the position, so Samuel should be in line for another nice day as the target hog in SF.
17
Courtland Sutton, DEN vs. WAS. Sutton has drawn five or more targets in every game this season and has racked up 539 yards and two touchdowns. Unfortunately, Teddy Bridgewater is banged up, or Sutton's ceiling could be much higher. Still, we've seen him have success this year and a matchup with Washington's awful secondary could result in a WR1 finish for Sutton. Washington has been the second-worst defense against WRs, and it has been the No. 1 WR that has been the most productive against them. Jerry Jeudy (ankle) is expected to return in Week 8, but we'll set his expectations somewhat low as a low-end WR2. Tim Patrick moves down to a fringe flex option.
18
CeeDee Lamb, DAL @ MIN. Minnesota struggled on defense early in the year, but they've turned it on as of late, and have limited D.J Moore, Odell Beckham, and Tyler Lockett in recent weeks. Lamb and Amari Cooper are presumably better than those three, but the matchup is still somewhat worrisome. Both should be started regardless, but we'll probably see one be productive while the other busts — as we've seen several times this year. It's worth noting Michael Gallup is set to play for the first time since Week 1, so he will draw flex consideration right off the bat, too. There will be some games he outproduces both Lamb and Cooper, but we'll never know when that is coming.
19
Amari Cooper, DAL @ MIN. See CeeDee Lamb.
20
Robert Woods, LAR @ HOU. Wood quietly had a nice fantasy day in Week 7, catching all six of his targets for 70 yards. He's been relatively unproductive this year, but we're still touting his upside as the No. 2 WR in one of the league's best offenses. If this game gets too out of hand early, it could be bad news for Rams' pass-catchers, but the upside is clearly there if this game remains anywhere close to competitive.
21
Emmanuel Sanders, BUF vs. MIA. Sanders has at least five targets in every game this season and looks like the No. 2 WR in this prolific Buffalo offense. His deep-play threat is still very much alive Miami came into Week 7 allowing the third-most fantasy points to WRs, before allowing Kyle Pitts, Russell Gage, and Calvin Ridley to have nice fantasy showings. Yes, Pitts is more or less a wide receiver based on usage. Cole Beasley remains attractive in PPR leagues, but he's been uninvolved in a few games this season, while Sanders has been a factor in every game.
22
Julio Jones, TEN @ IND. Jones only played for about two and a half quarters against Kansas City, but he actually looked somewhat healthy. He was benched after the Titans' led by 24 and the game was pretty much decided. Again, Tennessee is being 110-percent careful with Jones as they have postseason aspirations. Indianapolis gave up touchdowns to Nick Westbrook-Ikhine and Chester Rodgers and Week 3 against Tennessee when Jones and A.J. Brown were up, so the ceiling feels high for the Titans' WR duo this week.
23
Diontae Johnson, PIT @ CLE. Johnson is good for a double-digit target game every time he steps on the field, and Cleveland went from being viewed as a great defense to one of the league's worst defenses in the blink of an eye. They've given up eight-plus catch games to Tyreek Hill, Mike Williams, and Brandin Cooks, so Johnson almost feels like a lock for that reception total. As always, he's a stronger play in PPR leagues, but we like him in all formats here. For now, Chase Claypool should be viewed as boom-or-bust each week. His ceiling and floor are extremely low at this point.
24
Sterling Shepard, NYG @ KC. Shepard (hamstring) missed Week 7, but if he can play in Week 8 against Kansas City, he's practically a must-start — especially in PPR leagues. He's only played in three full games this year but has drawn nine-plus targets in each of those contests. Kansas City can't cover anyone, but its offense should play well enough to force Daniel Jones into a decent number of passing attempts. Especially if Kadarius Toney (ankle), Kenny Golladay (knee), and Saquon Barkley (ankle) are out, Shepard should be on the receiving end of a ton of targets once again. If any of those Giants' pass-catchers return, they will automatically draw starting consideration. That said, they don't play until Monday night, so it might be safe to keep them on the bench.
25
Mike Williams, LAC vs. NE. Not much needs to be said here, but Williams and Keenan Allen should be started given the upside of their offense led by Justin Herbert. The matchup against New England limits their ceiling at least a little bit, though.
26
DeVonta Smith, PHI @ DET. Smith has been quiet lately, but this could be a spot where he could thrive. Detroit has been a decent unit against WRs, mostly because teams stop passing against them when the game is out of hand but is Philadelphia really good enough to blow out the Lions? We expect this game to be somewhat competitive, and now that Miles Sanders (ankle) is likely out, they'll probably lean pass even more than they have been. Smith still drew nine targets against the Raiders, so we're not ready to fade him in this matchup.
27
Randall Cobb, GB @ ARI
28
Jerry Jeudy, DEN vs. WAS. Courtland Sutton.
29
Brandin Cooks, HOU vs. LAR. This is obviously a concerning matchup for Cooks, but he may get Tyrod Taylor (hamstring) back at the helm of the Texans' offense. This could be a perfect opportunity for Cooks to eat in garbage time, so while you could consider benching him, he still has upside. He has seven or more targets in six-of-seven games this year and has notched 11-plus targets three times. Even in a bad offense, those numbers are hard to ignore. Start him in the flex in PPR leagues.
30
Keenan Allen, LAC vs. NE. See Mike Williams.
31
Michael Pittman Jr., IND vs. TEN. Pittman caught all four of his targets for 105 yards and a touchdown against San Francisco, and although Tennessee held him in check in their first meeting, he's an attractive flex option. Carson Wentz is playing much better overall, and this Colts' offense is coming to life right before our eyes. T.Y. Hilton looked good in his first action of the season before missing Week 7 with a quad injury, but he should have plenty of opportunity in the flex spot, too.
32
Tyler Lockett, SEA vs. JAX. The matchup is wonderful here, but Geno Smith and Lockett aren't on the same page. Smith struggles deep down the field, which is exactly where Lockett earns his keep. Overall, there's just not a great recipe for fantasy success until Russell Wilson returns.
33
Corey Davis, NYJ vs. CIN. It's difficult to comprehend, but Cincinnati's defense is solid and has been a top-12 defense against fantasy WRs. With exception to Adam Thielen and Davante Adams, they've held everyone else to somewhat pedestrian games. Outside of one deep shot to Marquise Brown, they shut down the Ravens' offense and held them to just 17 points. Davis will be on the receiving end of Mike White passes, so he and Jamison Crowder don't have much going for them at this point.
34
T.Y. Hilton, IND vs. TEN. See Michael Pittman Jr.
35
Tee Higgins, CIN @ NYJ. Higgins caught seven passes for 52 yards against Baltimore, but he drew a career-high 15 targets. We're optimistic about the crazy number of targets, but this game should be over before it starts. This will be a low-volume passing day for Joe Burrow, so Ja'Marr Chase feels like the only must start. Tyler Boyd is pretty much unstartable at this point — but especially in this game.
36
Marquez Callaway, NO vs. TB. Callaway could enjoy a nice fantasy day against a bad Buccaneers secondary, but Tre'Quan Smith's return should take some of his targets away. The ceiling is high here if Sean Payton opens up the offense, but New Orleans has been one of the most run-heavy teams this season, so there's only so much work to go around. Callaway has been a touchdown-or-bust player so far this year.
37
Marvin Jones, JAX @ SEA. Jones and Laviska Shenault are attractive flex plays against Seattle, but the entire Jags' offense has a low floor (except James Robinson). Maybe this is the breakout game coming off a bye, but we can rank them any higher than fringe WR3 based on a hunch. Urban Meyer's dedication to using Tavon Austin and Jamaal Agnew in the passing game doesn't help their cases. However, they're both being heavily targetted, so if this passing offense clicks, they can start to be more attractive options.
38
Laviska Shenault Jr., JAX @ SEA. See Marvin Jones.
39
Jakobi Meyers, NE @ LAC. Meyers has yet to score his first career touchdown, so naturally, his ceiling in standard leagues remains lower than in PPR leagues. He's still drawn five-plus targets in every game this season, so he has to warrant some flex consideration. That said, Los Angeles allows the least amount of points to fantasy WRs, so this is a concerning matchup.
40
Cole Beasley, BUF vs. MIA. See Emmanuel Sanders.
41
Jaylen Waddle, MIA @ BUF. Waddle is seventh in the NFL in receptions and is trending up as far as his season-long fantasy outlook goes, but Buffalo's defense is one of the toughest against all positions in fantasy. We last saw Buffalo get shredded by Derrick Henry, but that was Derrick Henry — and they contained Tenneessee's WRs for the most part. Waddle might be a decent play in PPR if he's forced targets, but his ceiling is low. If DeVante Parker (hamstring) finally comes back, his outlook this week is worrisome, too.
42
Equinimeous St. Brown, GB @ ARI
43
Allen Robinson, CHI vs. SF. At this point, the only thing keeping Robinson inside the top-50 is his track record from previous seasons. We know Robinson owners might be fed up, so we don't blame you if you bench him, but his upside is still higher than some of the guys ranked below him. Darnell Mooney might be a safer PPR piece, but neither can be called safe at this point in the season, regardless of matchup.
44
Michael Gallup, DAL @ MIN. See CeeDee Lamb.
45
Russell Gage, ATL vs. CAR. See Calvin Ridley.
46
Darnell Mooney, CHI vs. SF. See Allen Robinson.
47
Jarvis Landry, CLE vs. PIT. Landry looked healthy and energized coming off of IR, and caught five-of-eight targets for 37 yards. As usual, he's more of a Hunter Henfrow type player in this stage of his career. Both build their fantasy points with shallow catches for little years. Still, there's value in that kind of player in PPR leagues. Odell Beckham hardly looks startable right now.
48
Robby Anderson, CAR @ ATL
49
Christian Kirk, ARI vs. GB. The same sentiments remain true for Kirk, A.J. Green, and Rondale Moore. You can't necessarily trust any of them any given week, but each has a ton of upside. That said, Kirk and Green have proven to be the best options, with Rondale serving as a complete boom-or-bust guy. If you're a huge underdog in your matchup, these guys are attractive for upside, but again, they aren't safe.
50
A.J. Green, ARI vs. GB. See Christian Kirk.
51
Tim Patrick, DEN vs. WAS. See Courtland Sutton.
52
Odell Beckham Jr., CLE vs. PIT. See Jarvis Landry.
53
Mecole Hardman, KC vs. NYG. Can we really be surprised Hardman was a letdown against Tennessee? Absolutely not. However, the entire Chiefs offense was essentially shut down, and Hardman still has the most upside of Chiefs' pass-catchers not named Hill or Kelce. The Giants give up the 12th most fantasy points to WRs, so let's see if he can do something this time.
54
Chase Claypool, PIT @ CLE. See Diontae Johnson.
55
Kalif Raymond, DET vs. PHI
56
Rondale Moore, ARI vs. GB. See Christian Kirk.
57
DeVante Parker, MIA @ BUF. See Jaylen Waddle.
58
Jamison Crowder, NYJ vs. CIN. See Corey Davis
59
Tyler Boyd, CIN @ NYJ. See Tee Higgins.
60
Amon-Ra St. Brown, DET vs. PHI
61
Brandon Aiyuk, SF @ CHI
62
Tre'Quan Smith, NO vs. TB
63
Donovan Peoples-Jones, CLE vs. PIT
64
Van Jefferson, LAR @ HOU
65
Jalen Reagor, PHI @ DET
66
Byron Pringle, KC vs. NYG
67
Jamal Agnew, JAX @ SEA
68
DeSean Jackson, LAR @ HOU
69
Zach Pascal, IND vs. TEN
70
Nelson Agholor, NE @ LAC
71
Amari Rodgers, GB @ ARI
72
K.J. Osborn, MIN vs. DAL
73
Kendrick Bourne, NE @ LAC
74
Darius Slayton, NYG @ KC
75
Quez Watkins, PHI @ DET
76
Tavon Austin, JAX @ SEA
77
Chris Conley, HOU vs. LAR
78
Preston Williams, MIA @ BUF
79
Olamide Zaccheaus, ATL vs. CAR
80
Adam Humphries, WAS @ DEN
81
Chris Moore, HOU vs. LAR
82
Freddie Swain, SEA vs. JAX
83
Dante Pettis, NYG @ KC
84
Rashard Higgins, CLE vs. PIT
85
Gabriel Davis, BUF vs. MIA
86
Elijah Moore, NYJ vs. CIN
87
Josh Reynolds, TEN @ IND
88
DeAndre Carter, WAS @ DEN
89
Terrace Marshall Jr., CAR @ ATL
90
Marquise Goodwin, CHI vs. SF
91
Jalen Guyton, LAC vs. NE
92
Demarcus Robinson, KC vs. NYG
93
Josh Gordon, KC vs. NYG


[ad_2]

Source link